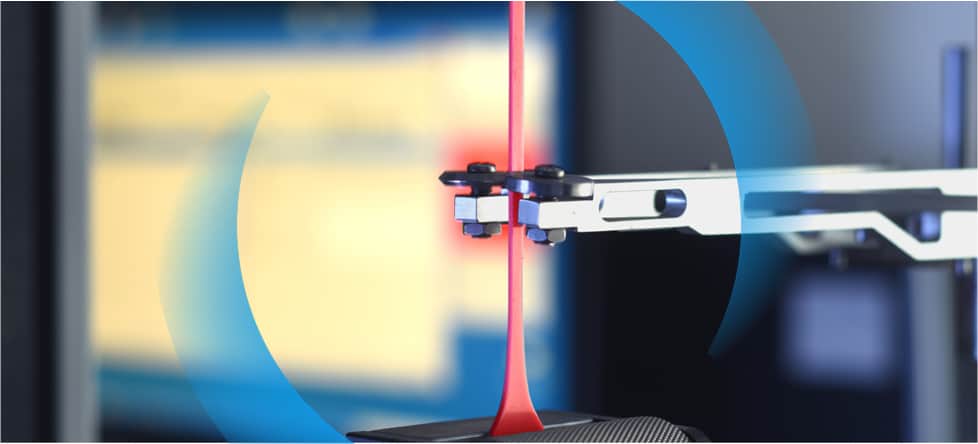 According to the American Society for Testing and Materials (ASTM) definition, a rubber compound or elastomer is defined by:
After being stretched to at least 100%, held for 5 minutes & then released, it must retract to within 10% of its original length within 5 minutes after release.
When stretched approximately 100%, an elastomer part must not break.
To qualify an elastomer mechanically for its applied usage, it is necessary to measure the force needed to get a sample to its rupture point. Various physical properties are used to classify and categorize elastomers including elongation, tensile strength, hardness, modulus and compression set. In this blog, we'll be examining all five criteria and why they're relevant to elastomers and to sealing solutions in particular.
Elongation
Elongation is defined as the length at breaking point expressed as a percentage of its original length (i.e. length at rest). If a rubber reaches twice its length before breaking, its elongation percentage is 100%. To qualify an elastomer mechanically for its applied usage, it is necessary to measure the force needed to get a sample to its rupture point.
Measurement is carried out using a dynometer, a traction device with an extensometer that follows two marks on the sample. It can measure, at any time, the size of the rubber test sample when it's being elongated and at breaking point. Elongation is expressed as a percentage: elongation percent = (elongation at rupture) x 100/(initial gauge length).
Beyond testing the rupture point, it also determines the variability in rubber vulcanizates and the influence of parameters affecting the stress-strain properties such as temperature, relative humidity, and more.

Tensile Strength
Tensile strength (TS) is the maximum stress that thermoplastic elastomers can withstand before failing and is measured as force per unit area.  There are three typical types of tensile strength: yield strength, ultimate strength, and breaking strength.
Tensile strength tests are used to determine the effect of chemical or thermal exposure on a material.  Two testing methods can be used to measure tensile strength and they do not always produce identical results: (1) dumbbell and straight section specimens; and (2) cut ring specimens.
Typically, testing involves taking a small sample with a fixed cross-sectional area and pulling it with a tensometer at a constant strain (change in gauge length divided by initial gauge length) rate until the sample breaks.
Hardness

Hardness (DH) is used to measure a material's resistance to permanent indentation. There are 12 scales that define the hardness of various materials, and they range in value from 0 to 100, with 100 indicating the hardest.
Standard hardness testing is carried out using a durometer. Hardness is especially important when selecting rubber materials for high pressure applications.

While most of Techno Ad's tests are done based on known standards, in some cases, either per customer's requirement or for extra validation, non-standard HD tests are also carried out on the part itself.

Modulus
Modulus (E) is used to measure tensile elasticity, or the tendency of an object to deform along an axis when opposing forces are applied along that axis. The modulus is described as the stress required to elongate the sample; it's neither a ratio nor a constant slope, but denotes a point on the stress-strain curve.
Modulus testing is used to control product quality and to determine the effect of chemical or thermal exposure on rubber or elastomer materials. It's the retention of physical properties, rather than the absolute values of the tensile stress, elongation, or modulus that is significant.
Compression Set
Compression Set (CS) is one of the most important properties of rubber compounds in terms of its sealing function. One could say that it's the material's memory, that is, its ability to return to its original shape and to perform a sealing function. As elastomers are compressed over time, they lose the ability to return to their original thickness.
Compression Set Testing measures the ability of a material to return to its original thickness after a compression force is applied at a set deflection and temperature. If a material has zero compression set, it means that it returns to 100% of its original thickness, while a material with a 100% compression set does not return any of its original thickness.
When designing a seal or an O-Ring, in addition to selecting the right materials based on temperature and chemical resistance, it's important to take the material's CS property into account. A good CS leads to better sealing and a longer product service life.
At Techno Ad, all these criteria are taken into account when recommending materials for specific applications.
Concerned about whether you've selected the right material? Speak to our experts.